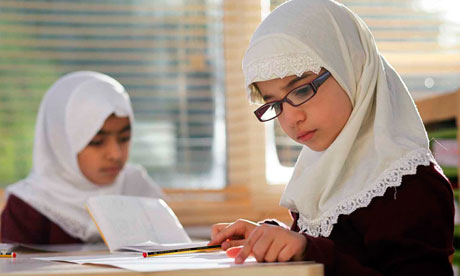 CAIRO – Schools in the central German state of Hesse have started to offer Islamic education for primary school Muslim students, placing Islam on equal footing with the official Protestant and Catholic learning.
"They come here with such different backgrounds," Timur Kumlu, a state-trained teacher at the Islamic instruction program, told New York Times on Tuesday, January 7.
"We must educate so that they develop a personality with common roots," in Germany and in Islam.
The classes, offered for the first time in German public schools, started in Hesse to better integrate Muslims in the German society.
Following decades of neglect, the classes were part of a growing consensus that Germany was willing to serve its Muslim minority.
It was also proposed as a government bid to better integrate the nation's large Muslim minority and counter the growing influence of what they termed as "radical religious thinking".
Delivering the Islamic classes, state-trained teachers use specially written textbooks to educate students on their peaceful faith.
Welcoming the optional Islamic classes, dozens of vigorous Muslim students have signed-up for at least 29 classes across the immigrant predominated districts.
"I think it's clear now that for years we made the mistake of alienating people," said Nicola Beer, who as education minister in Hesse was one of several politicians, professors and teachers who pushed for the Islamic instruction.
Germans recognize that "we are here together, we work together, and we educate our children together."
Germany has between 3.8 and 4.3 million Muslims, making up some 5 percent of the total 82 million population, according to government-commissioned studies.
Germans have grown hostile to the Muslim presence recently, with a heated debate on the Muslim immigration into the country.
A recent poll by the Munster University found that Germans view Muslims more negatively than their European neighbors.
Germany's daily Der Spiegel had warned last August that the country is becoming intolerant towards its Muslim minority.
According to a 2010 nationwide poll by the research institute Infratest-dimap, more than one third of the respondents would prefer "a Germany without Islam."
Religious Classes
With each of the 16 states determining its own education system, Muslims started offering religious education through Islamic organizations in different German states, including Berlin.
After struggling for 20 years to get the permission for Islamic teaching, Muslims were granted the right to hold a 40-minute instruction class per week, which didn't meet the minority's demands at that time.
"It is difficult to be a Muslim in Germany," said Fazil Altin, 34, a lawyer who is president of the Islamic Federation, who said he had been denied access to clients in jails because of his faith.
"The fact is, we are seen as a danger," Altin says that more inclusive activities and polices are needed to void the gap between Muslims and the secular society of Germany.
Muslims in the immigrant-heavy district of Kreuzberg have been facing multi challenges of integration, including German parents' condemnations due to the growing numbers of immigrants in their children's schools.
"Teachers here have a feeling that something doesn't fit with Islam and democracy," said Sabine Achour, a German lecturer and educator in Berlin who is married to a Moroccan lawyer.
German Muslims have also voiced concerns about the possibilities of applying Hesse's initiative in the rest of Germany's 16 states.
The state-trained teachers in Hesse were required to accomplish 240 hours of extra schooling at Giessen University to join the Islamic instruction program.
Motivated by his ignorance about Islam, Kumlu, 31, the first-grade teacher, was eager to join the state-approved Islamic classes.
"I wanted to clear this up," said Kumlu, whose pupils now are third- to fifth-generation German.
"And they should be on an equal basis with other religions."